Hosting a corporate golf outing is a proven way to build genuine relationships, promote your brand, and create a fun and memorable experience for important stakeholders in your business. However, it's so great, in fact, that these events have become a dime a dozen — with invites saturating the inbox of your valued customer and prospect. Nonetheless, with the proper planning, you can take your event from just another invite to a can't-miss occasion. Here are some tips to stand above the crowd and use this cherished game to drive new business:
Keep Your Guest List Focused
In the case of corporate golf events, it benefits you to be highly intentional with your guest list. Depending on your organization's goals, a small field often yields better results. By keeping your guest list hyper-targeted, you build excitement to be invited, and guests will already feel like a VIP just by securing an invite.
An added benefit of a smaller guest list is that it minimizes upfront costs for your organization and opens up several more options for courses, tickets, and experiences. So not only will your guests feel like VIPs, they'll get the access they'd expect from such an exclusive ticket.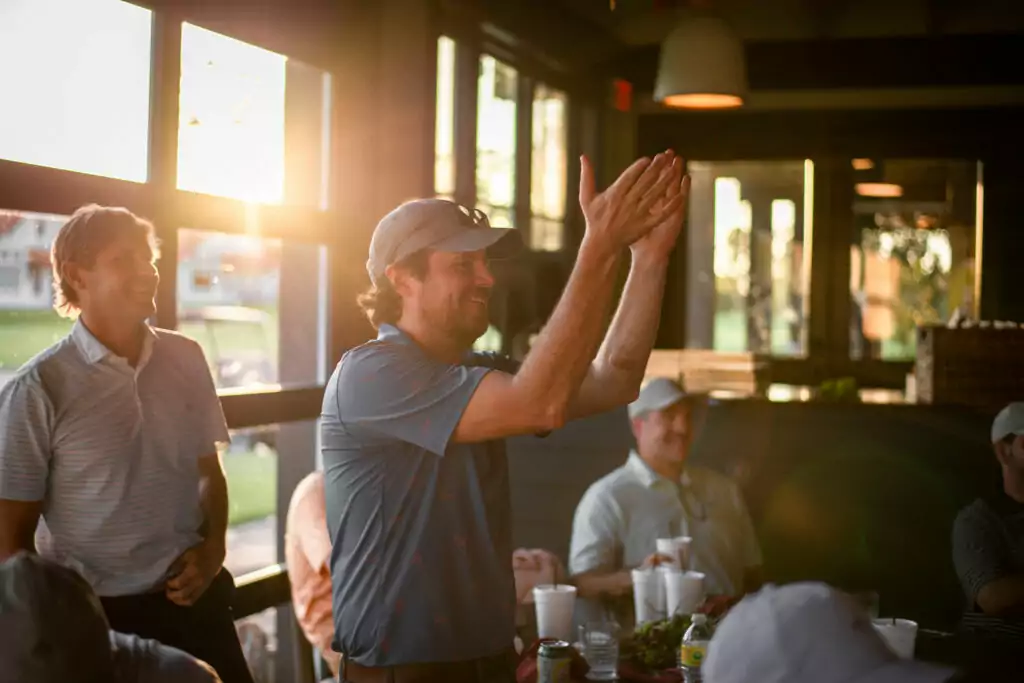 Plan a "You Should Have Been There" Moment
Whether it's exclusive access to a golf course, an appearance from a celebrity golf pro, or unique prizes they can only win at your event— offering something that will generate buzz will not only entice people to attend but will have people craving an invite from you in the future.
Finding the right partner can make all the difference when securing a buzz-worthy moment for your guests. At BDE, we're golf fans and have "been there, done that." We know what impresses the most avid golf fan and what makes for great "you should have been there" customer stories at the water cooler. Additionally, we also have the connections and access to high-profile talent and entertainment that we are ready to tap into for your next event.
Create a Welcoming Atmosphere
As you begin to plan your next customer golf outing, the details make a difference. When creating a welcoming and professional atmosphere, the goal is to make your guests feel comfortable from the moment they enter the venue. This can be accomplished by providing signage and a program for the day so it is clear where they should go, offering refreshments, and having enough event staff that they always feel attended to if needed.
Additionally, branded merchandise, promotional items, and little touches that connect your brand to the event, like a signature cocktail or color scheme, are a great way to increase brand awareness and give the event a professional and well-planned first impression.
Ensure Flawless Event Execution
Combing through every detail, thinking of every need, and preparing for as much as possible before the event is critical to execution going smoothly.
Trusting your event staff and providing them with all the information they need to run the day will make your job as the event planner easier and ensure your guests have a white-glove experience. This removes distractions from your guests and allows them to enjoy every aspect of your event.
Executing golf events well is challenging, especially if this is not your only job function. That's why outsourcing your event planning and execution to a professional team could be your secret weapon.
Find the Right Event Partner 
There are benefits to outsourcing the organization of your next corporate golf outing. By finding an event partner that is established and experienced, you're tapping into best-practice logistics support and better pricing on courses, gifting, tickets, accommodations, and celebrity talent.
At Best.Day.Ever., we have relationships with golf courses, wholesale accounts with golf apparel companies, venue accommodations, agencies for celebrity appearances, and even the PGA Tour. We are ready to tap into these resources to help you reach your event goals.
The right event partner will work within your budget and interest levels in the game, removing the "fear factor" of planning and mitigating the risk for you. Are you ready to plan your next corporate golf event? Let's talk.
Check out our case study here where we organized and executed NRG Energy's Golf Invitational for their top clients and prospects at Bluejack National, renowned as Texas' number one course.