The cancelation of last year's March Madness was a devastating blow to every entity involved in the tournament. Prior to the pandemic derailing plans for the timeless college basketball classic, the content and digital development teams had worked tirelessly to complete the entire re-design of the March Madness Live app to reinvigorate fan engagement. However, the extra year provided a golden opportunity to rethink their digital advertising strategies.
The fundamental goal was to develop a consistent layout across all platforms, no matter which device is being used — beginning at login, with a spotlight area featuring prominent player images and score information for current live streams. A hovering auto-play option of games, a feature implemented to entice more viewers, has also been added to the platform.
Game Center
Known as the tournament's central digital hub, Game Center provides users with news, highlights, and interactive content options for an augmented fan experience. For the first time, this specialty is featured on all devices and includes "Condensed Games," presented by AT&T 5G and provides fans with the most exciting live-game moments. Engagement and connectivity features are included, such as a new tab for interactive widgets with polls, quizzes, game alerts, and more.
The @NCAA, @CBSSports and Turner Sports will debut a new design for their second-screen streaming platform during the 2021 Division I college basketball tournament. NCAA #MarchMadness Live will feature an updated version of the Game Center hub. https://t.co/M1ufkn7whK

— SportTechie (@SportTechie) March 11, 2021
"The Catch Up"
This year an all-new feature, "The Catch Up" video experience, provides fans with condensed summaries of key game highlights before they start watching. Through a holistic look at live-action content along with highlights, real-time analysis done by industry stars, and social reactions, this new inclusion provides fans an exciting new way to engage with the tournament.
Redesign of March Madness Live Lets Users Engage With More Than the Game
New feature, The Catch Up, includes #AI-generated live highlight reels allowing access to full condensed versions of completed games powered through a partnership with @WSC_Sportshttps://t.co/beGBim3enN pic.twitter.com/XlYYzwNpQd

— Dylan Boyd (@dtboyd) March 19, 2021
Bracket Integration
From the minute that fans fill out their brackets to when the nets get cut down, the Capital One Challenge features fan integration options that accompany live game coverage. By reminding users of their outcome predictions, fans know which teams to root for ahead of time.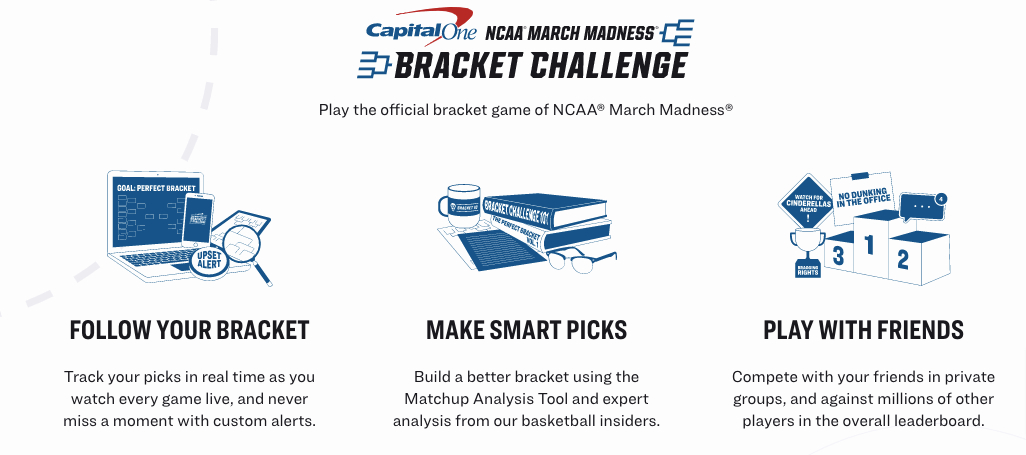 Matchup Analysis
Part of Bracket IQ and presented by Invesco QQQ, Matchup Analysis gives fans the option to review over 20 stats from each team to help guide their round-by-round winning team predictions. Beginning during the Sweet Sixteen, fans can also access extra insights with "Path to the Championship", giving them a chance to visualize their best possible ranking based on the remaining games.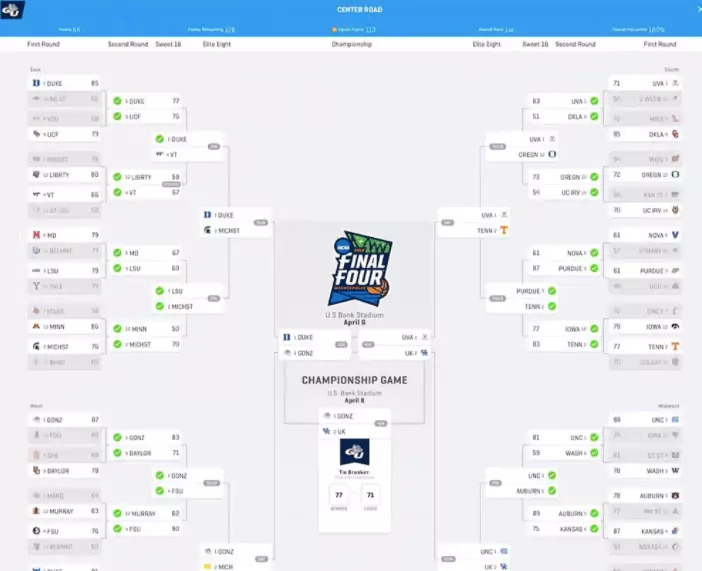 Despite the tournament taking place in one location, the NCAA, alongside their partners, has invested incredible time and energy to create a novel and immersive experience for March Madness fans. With the debut of new engagement features and fan experiences on the March Madness app, this year's tournament will be unlike any other, and the team at Best.Day.Ever. is following along with anticipation.
Your engagement with March Madness doesn't have to stop with the app however, Best.Day.Ever. can help you bring your company and most important counterparts together through our March Madness gamification. Click the button below to learn more.