Harvard Business Review recently released the below graphic to illustrate how products and services deliver fundamental values across the four pillars of need: Social Impact; Life Changing; Emotional; and Functional. It brings the viewer to a conclusion that the more elements provided, the greater customer loyalty a business can inspire which ultimately leads to sustained revenue growth.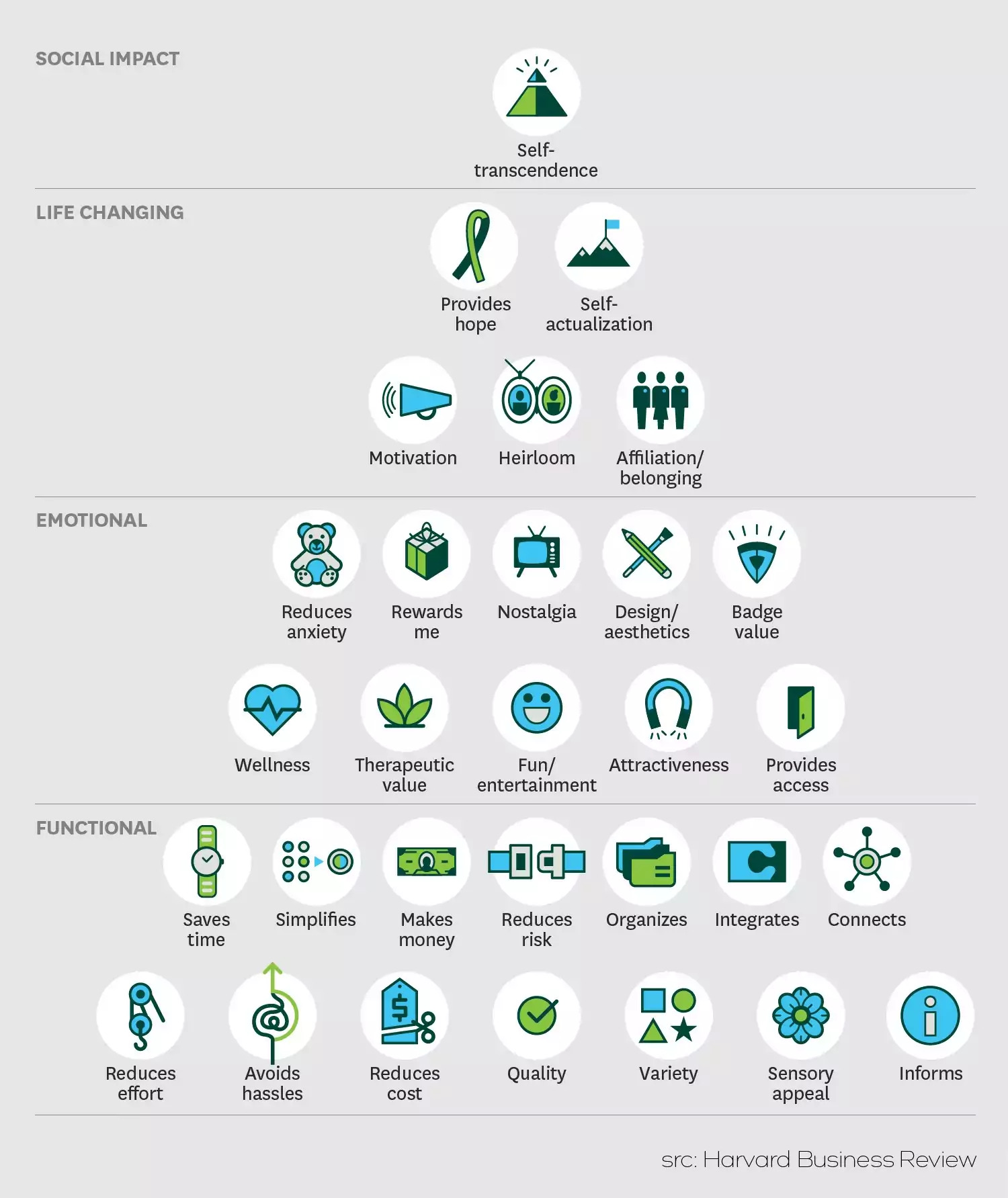 Perhaps no company has done this as well as Apple. Everything from their trade dress to their keynotes makes an industry-best attempt at hitting all four pillars of the need chain.
But today we are going to explore how hospitality, not tech, plays a major role in hitting these pillars – and how your company can excel without the benefits of a $2B market cap.
Functional
Saves time, organizes, connects, and informs… Think on these terms as you recall one of your favorite in-person or virtual experiences. Perfecting hospitality execution always requires one to look at the function of an event. What is its purpose? What tactics will you employ to achieve that purpose? And most importantly, how will your guests experience the function you've designed?
Above all else, Best.Day.Ever. suggests providing your consumers with the path of least resistance. Ensure minimum effort need be expelled on their route to the experiences you've designed for them.
It requires thought, research, and a lot of quality assurance – and your guests likely won't thank you for the work you put in at this level – but they'll certainly spend their dollars elsewhere if you don't complete this crucial step.
Life Changing
Self-actualization, motivation, and affiliation. How can your organization create a touch point that at once entertains and moves your audience at the same time?
Apple does this by providing hope through their products. With an iPhone you can be an influencer of your own path. With a MacBook your career will take off. When you open an Apple product, you at once become a creator within the Apple community AND are simultaneously enabled with a newfound sense of independence and autonomy to fulfill your potential.
With a little strategy and planning, customer hospitality can achieve this too. By organizing your event's run of show to include two-way engagement in specific segments, you can guide your guests along a user journey that brings them empowers them towards your goal. With VIP invitations and credentialing, your attendees will feel included in a club of elites, honored by the affiliation. With insightful topics curated to their liking, you'll arm them with the tools to enhance their individual impact in life.
Social Impact
Ah, the top of the pyramid: self-transcendence. At the risk of appearing disingenuous, let's first define what it takes to hit this element of social impact:
self-transcendence (self ˌtran(t)ˈsendəns) noun; the overcoming of the limits of the individual self and its desires in spiritual contemplation and realization.
To bring a guest to this level of spiritual realization is certainly a tall task for any organization looking to increase brand awareness, drive sales, or enhance market share.
But one can certainly make the case that the elements of an enlightened spiritual discussion can lend themselves to seminars of your industry, trade, or professions.
We call this step of the pyramid the "Ah Ha!" moment. If a given attendee has one or many incidents where a preconceived notion is disrupted for the better… if they're able to create a memory that helps redefine their approach to their job, their personal lives, or their day-to-days… then you have checked this box.
Plan the elements of your event to be inclusive of debate and discussion. Bring in experts to help moderate and bring forth insights not yet heard by the masses. Workshop the delivery of such so that your event may act as a vehicle for change.
—
Put the four pillars together when ideating your next B2B customer hospitality engagement to ensure your guests feel their needs are being addressed. Spending the time to do so will build retention and sustained revenue growth through customer loyalty.