with Best.Day.Ever.'s Bespoke Ancillary Programming
In the ever-evolving world of retail, the National Retail Federation (NRF) annual conference stands as a pivotal event. It serves as the epicenter of innovation, a platform for thought leadership, and a hub for forging influential business connections. How can your brand stand out and leave a lasting impression in a dynamic landscape? The answer lies in crafting unique, memorable experiences through ancillary programming, and that's where Best.Day.Ever. takes center stage.
Why Choose Best.Day.Ever.'s Ancillary Programming for NRF 2024?
At Best.Day.Ever., we are true masters in designing bespoke events and experiences that complement the main event and elevate your brand's visibility and engagement to unprecedented heights.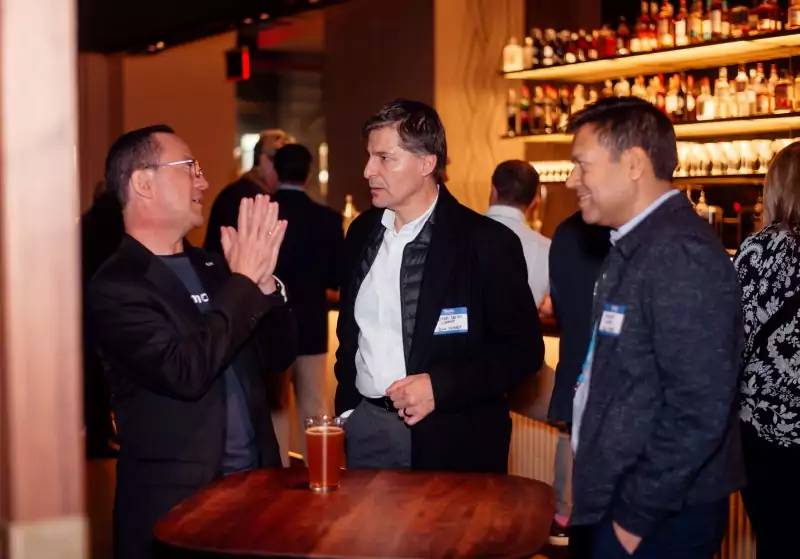 Stand Out in a Sea of Exhibitors
Amidst the myriad of exhibitors vying for attention at NRF, distinguishing yourself can be challenging. Our ancillary programming offers exclusive, tailored experiences that set your brand apart, creating moments that attendees will cherish long after the conference concludes. Imagine hosting an exclusive networking event with a twist, or an immersive product demonstration that captivates only your most crucial decision-makers. By curating intimate settings, your brand can deliver its message organically, leaving a lasting impression on your target audience.
Cultivate Meaningful Relationships
At its core, business revolves around genuine relationships. It's about connecting with people, understanding their needs, and delivering value that enhances their lives or businesses. This truth is particularly evident at NRF, where thousands of professionals convene to learn, network, and forge new partnerships.
However, amidst the frenzy of product demos, keynote speeches, and sales pitches, creating authentic, meaningful connections can be challenging. This is precisely where bespoke events come into play.
At Best.Day.Ever., we firmly believe that the most impactful relationships are forged not in conference halls, but in intimate, engaging settings that foster personal connections. Our bespoke events are meticulously designed to cultivate precisely such environments.
Imagine hosting a VIP dinner with a carefully curated guest list. Away from the commotion of the exhibition hall, you can engage in deeper, more meaningful conversations with your clients, partners, and prospects. Here, it's not just about discussing business; it's about getting to know them as unique individuals and understanding their challenges, goals, and passions.
Consider a private tour of Yankee Stadium with a former Yankees Legend, a Broadway show paired with a luxury dinner featuring cast members, or any other extraordinary local experience. These shared moments aren't just enjoyable; they also create a common bond between you and your attendees. They provide a shared memory that keeps your brand at the forefront of their minds long after the event has ended.
These bespoke events transcend mere entertainment; they're about building lasting relationships. They offer the perfect platform to show your clients, partners, and prospects that you value them as individuals, not just as business contacts.
This approach sets you apart in a world where businesses crave personalized, human-centric experiences. It can help cultivate stronger, more meaningful relationships that drive loyalty, advocacy, and ultimately, business growth with robust ROI at NRF 2024.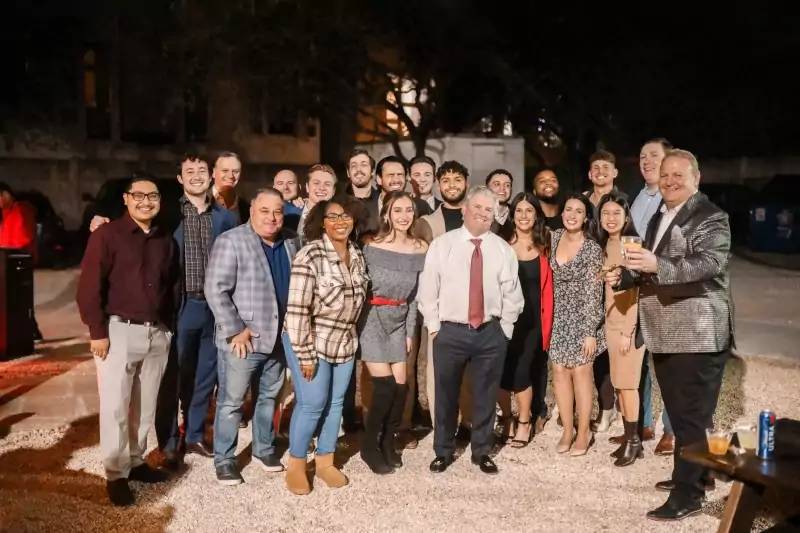 Express Your Brand Identity
One of the most potent aspects of ancillary programming is its ability to serve as a canvas for your brand's identity. Unlike the confines of a traditional booth setup, ancillary events offer a dynamic platform to showcase your brand's ethos, values, and personality in an engaging and interactive manner.
Are you a brand that thrives on innovation and creativity? Consider hosting a think-tank session or a creative workshop that mirrors these qualities. Is your brand all about fun and playfulness? A themed game night or a celebrity dining experience could be the perfect way to express this.
Moreover, these events can be tailored to reflect your brand's aesthetic and style, creating a cohesive brand experience. From the choice of venue and decor to the food and music, every element can be customized to resonate with your brand's identity.
Yet, it's not just about showcasing your brand's personality; it's also about creating an environment that allows your audience to interact with your brand on a more personal level. These experiences provide attendees with a deeper understanding of your brand's culture and values, fostering a stronger emotional connection.
By integrating your brand identity into your ancillary programming, you're not just telling attendees who you are; you're showing them. And in doing so, you're creating a more memorable and impactful brand experience that extends far beyond the showroom walls of NRF 2024.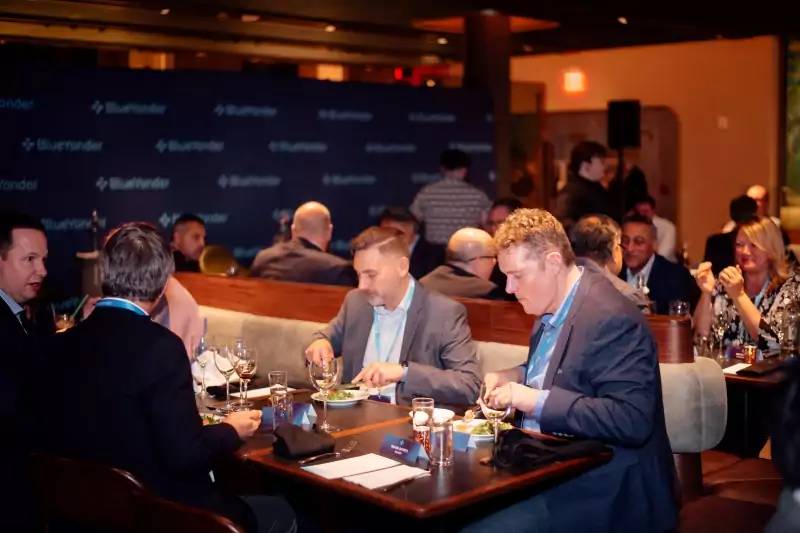 Optimize Your Investment
Participating in NRF is indeed a substantial investment, both in terms of time and resources. To truly maximize the return on this investment, it's crucial to extend your brand's presence and impact beyond the confines of the exhibition hall.
Ancillary events serve as additional touchpoints with attendees, amplifying your brand's visibility and engagement opportunities. NRF may be a massive event, but it's not just about quantity; it's also about quality. Events with Best.Day.Ever. facilitate more meaningful, personalized interactions with potential clients, partners, and industry influencers. Rather than brief conversations at busy booths, you'll have the chance to engage in in-depth discussions, build relationships, and genuinely understand the needs and interests of your audience.
Moreover, these events significantly enhance the attendee experience. They provide a refreshing break from the traditional conference format, offering unique, memorable experiences that make your brand stand out amid a sea of exhibitors. Whether it's a thought-provoking panel discussion, a fun networking event, or a hands-on workshop, these experiences leave a lasting impression and position your brand as not just an industry leader but also a strong innovator.
Additionally, ancillary events provide valuable data and insights. By tracking attendance, engagement, and feedback, you can gain a better understanding of your audience's interests and preferences, informing your future marketing and sales strategies.
In essence, ancillary programming is not just an add-on to your NRF participation; it's a strategic tool that significantly enhances your brand's impact and ROI. By creating additional, high-quality touchpoints with attendees, you're not only increasing your chances of converting leads into customers, but you're also building stronger, more meaningful relationships that drive long-term business growth.
Leverage Celebrity Power for Unforgettable Experiences
Now, picture this scenario – your prospects, weary from walking miles amidst the conference chaos, suddenly find themselves engaged in conversation with a celebrity. Eli Manning walks up with an ice-cold Corona in hand. Do you think their attention would shift? Absolutely!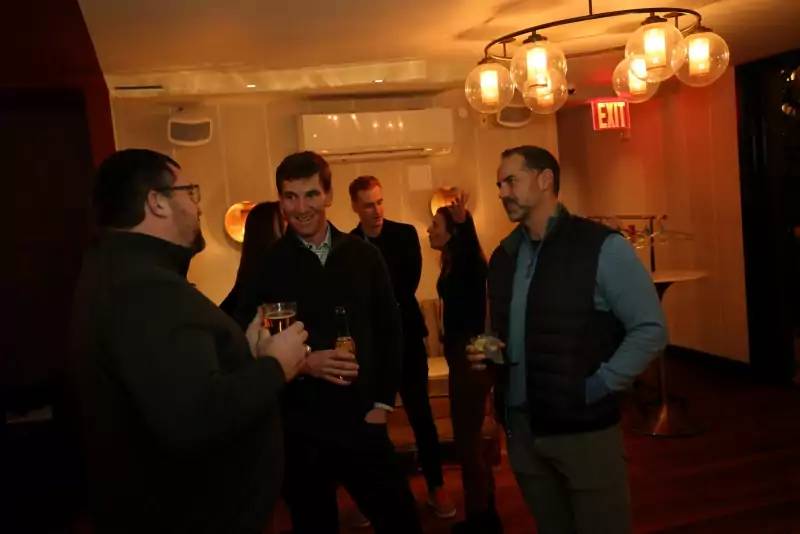 Leveraging the power of celebrity guests is one of the most effective ways to create a buzz around your brand and leave a lasting impression. At Best.Day.Ever., we boast a vast network of celebrity talent that we can bring in to elevate your ancillary programming at NRF 2024.
Imagine hosting a batting practice with MLB Legend John Franco. This unique experience not only provides an exciting activity for your attendees but also aligns your brand with the values of dedication, teamwork, and excellence that John Franco embodies.
Or consider an NFL watch party with Giants Legends Justin Tuck and Shaun O'Hara. This event offers a relaxed, enjoyable environment where attendees can network and engage in friendly conversation, all while enjoying a game with some of the most respected figures in football.
For those with a culinary inclination, a Celebrity Chef Dinner with Iron Chef Marc Forgione at Peasant or One Fifth, or with Marc Murphy at MM Kitchen Studio could be the perfect fit. These events offer a sensory experience that goes beyond the usual networking event, allowing attendees to enjoy exquisite cuisine while learning from top chefs in the industry.
These are just a few examples of the unique, high-impact experiences we can create for your brand at NRF 2024. We also have additional talent options, including Eli Manning, Sterling Shepard, Ahmad Bradshaw, John Starks, and Leah Cohen, among others. The possibilities are virtually endless.
By incorporating these celebrity experiences into your ancillary programming, you're not just providing entertainment; you're creating memorable moments that attendees will forever associate with your brand. This significantly enhances your brand image, increases attendee engagement, and ultimately drives more leads and conversions.
Case in Point: Blue Yonder at NRF 2023
Let's take a moment to showcase a resounding success story from NRF 2023. Best.Day.Ever. partnered with Blue Yonder to create a standout experience. We brought in NFL legend Eli Manning for a watch party, crafting an unforgettable evening that seamlessly combined business networking with an exclusive ambiance and a carefully curated guest list. The event was a resounding success, generating buzz and fostering deep connections between Blue Yonder and its clients.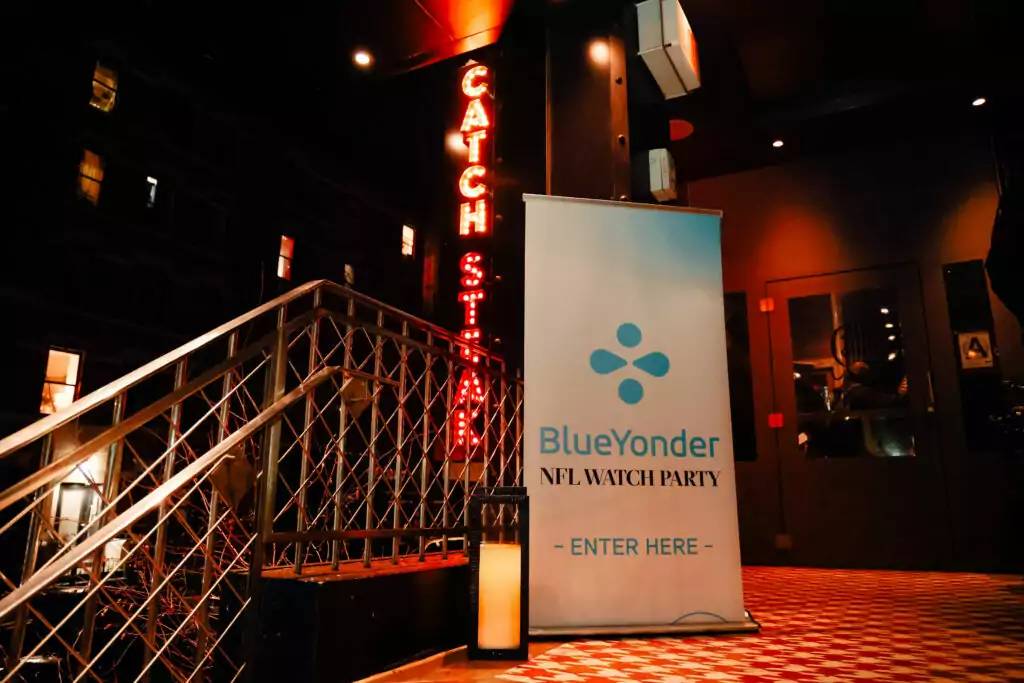 In summary, ancillary programming is a powerful tool that can amplify your brand's impact at NRF 2024. Whether it's through unique experiences, brand expression, or leveraging celebrity power, NRF 2024 offers your brand a golden opportunity to make a lasting impression in the retail industry. Don't settle for the ordinary; let Best.Day.Ever. guide you in creating an unforgettable NRF experience. We're here to help you design the perfect bespoke event strategy that aligns with your brand's goals and delivers the best possible return on your investment.
Gone are the days of chasing down prospects; let's work together to bring your leads to you, working smarter, not harder, to achieve your NRF goals.
At Best.Day.Ever., we don't just plan events; we create experiences. We can't wait to bring the Best.Day.Ever. to your brand at NRF 2024. Get in touch with us today to start planning your extraordinary journey.